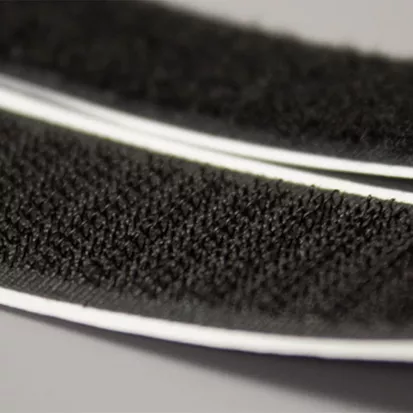 Close up of hook and loop tape
PVC Banner Print Resolution
Our PVC banners will get your business noticed for all the right reasons. We print at a high quality resolution of 1440dpi to ensure your banner looks crisp and clear when viewed from close up as well as far away. Because we use eco-friendly inks that are weatherproof, UV-resistant, scratch and fade resistant your full-colour PVC banner will continue to look as vibrant as the day it arrived, even when used in outdoor locations. To keep your PVC banner looking its best wash gently using a sponge and warm soapy water.
PVC Banner Material Specifications
We use a lightweight yet durable 510gsm PVC material to make our banners to ensure they look great and last for years to come. You can choose between two mounting options – eyelets or pole pockets. Eyelets are made from nickel plated brass and are usually fitted every two feet around the perimeter of the banner. Pole pockets are sturdily stitched pouches at the edge of the banner into which you slide your poles.
Ordering your PVC Banner
Ordering your PVC banner from Big Art and Banners is easy – simply choose your unit of measurement and enter the length and width of banner that you require. Prices will be automatically calculated based on the banner size that you have entered. Next choose your edge finish: for outdoor use we recommend a hemmed edge, and for indoor use (such as birthday banners) we suggest a clean cut edge. Select whether you would like eyelets or pole pockets. Finally upload your banner artwork. You can use the 'Comments' section for specific instructions such as pole pocket and eyelet spacing. Proceed through to checkout to pay for your banner, and your banner will be printed and shipped to schedule. Shipping is free on all UK mainland orders of £75 and above.
Don't Have Banner Graphics Yet?
Struggling to design your banner artwork? No problem! Just select the 'Design & Print' option and choose the standard or advanced package, if you're not sure which suits your needs best please contact us. Any assets you have, such as logos or imagery can then be uploaded and a design brief left in the notes section. Next proceed through to checkout to pay for your banner. After we process your order a member of our design team will contact you with a design for your approval.
Any questions or queries please contact us on 0800 612 9266 or email us at info@bigartandbanners.com. Our team of banner experts are standing by to help!
Be sure to also check out our other PVC banner products such as our double sided banners and backlit banners. You may also wish to consider the option of fabric banner printing as a durable and lightweight alternative to PVC banner printing.
Hook and Loop Tape FAQs
Can PVC banners be used outdoors?
Our banners are guaranteed to last outdoors by using the best quality PVC banner material and waterproof inks.
How do I order a banner?
To place an order online, simply configure, customise and upload your artwork or choose our design service on this page and proceed through checkout.
Can I upload more than one image per order?
If you're ordering more than one banner of the same size, and have various pieces of artwork to supply, our uploader will allow you to add as many images as you need to complete your order.
What is the maximum size you can print my banner?
There is really no maximum size, we can manufacture any size PVC banner.
What is a hemmed edge?
A hemmed edge is where we add 25mm of additional material around all 4 sides of the banner that is folded over and then heat welded or taped around the back. The benefits of a hemmed edge are:
Stronger banner that is less likely to tear along the edges.
Double layer of grip for eyelets, meaning they are less likely to rip out.
Does not affect the overall finish size of the banner.
What is a clean cut edge?
Clean cut edges simply means the material will be trimmed to size with no additional finishing.
What are pole pockets?
Pole pockets can be added when you want to hang your banner on a pole/bracket system. Our pole pocket sizes are based on a flat pocket measurement. As standard, if you require eyelets, banners with pole pockets will only have one eyelet in each corner along the weld line and will not be hemmed. For standard scaffolding poles, 100mm pockets are recommended.
Can you colour match?
Our printers produce CMYK images and artwork supplied in this format will be printed with the colour values stated. We do offer a personalised colour matching service please contact our sales office for more information and pricing.
Can you edit my artwork?
Yes, we can make amendments to your artwork. For this you will need to select one of our design services, which will allow for approx 1 hour or 2 hours design time depending on the package you choose.
You may also like...
Starting at £150