Hopefully our FAQs section will answer any queries that you may have. If it doesn't you can call us free on 0800 612 9266 or use our online chat function to pick the brains of our highly trained team – there's nothing that they don't know about big art and banners so feel free to test them!
Delivery
Tracking and Receiving
How do I track my order?
You will receive an email once your order has been dispatched from our depot containing your tracking number.
Do I need to sign for my order?
Yes - our courier will not deliver parcels without signature.
When will I receive my order?
Our website will provide you with an estimated delivery date based on the product, the time you order, the service level you select, and on the assumption we will receive print ready artwork. Please be aware that any delay in providing print ready artwork, approving artwork amendments and design services, may affect these dates.
Please note: As standard, we send all deliveries on an over night courier service. Although overnight services are 95% successful, this is not a guaranteed service. We cannot accept any liability for costs arising due to delayed or lost consignments. We recommend all time-sensitive deliveries are sent on a direct courier. Please contact us for a quotation or to upgrade the delivery on your order.
Shipping Locations
Where do you deliver?
All delivery prices on our website are based on an overnight courier service to UK addresses.
The following postcodes incur additional costs: AB31-56, BT1-94, FK19-21, GY1-9, HS1-9, IM1-99, IV1-63, JE1-4, KA27-28, KW1-17, PA20-80, PH1-50, TR21-25, ZE1-3, PO30-41.
Do you offer international shipping?
If you require international shipping, we are happy to provide a quotation if you email us.
Delivery Options
Delivery Option
Delivery Time
Delivery Cost
Standard Delivery
Generally, orders by 1pm; 2 day delivery (between 9-6pm). Orders after 1pm; 3 business days. Check individual products for dates.
£8.45 (Free to UK mainland on all orders over £85)
Customer Collection
Customers will be provided with an estimated collection date, and a confirmation when order is ready.
Free
Priority Delivery
Generally, orders by 1pm; Next day delivery (between 9-6pm). Orders after 1pm; 2 business days. Check individual products for dates.
Varies
Priority Collection
Customers will be provided with an estimated collection date, and a confirmation when order is ready.
Varies
Artwork
Producing Artwork
What program shall I use?
We recommend using the following programs that allow you to create custom canvas sizes in order to produce high quality/vector files suitable for large format print:
Adobe Photoshop
Adobe Illustrator
Adobe InDesign
Do you need bleed and crop marks?
No, just your artwork to size is fine. We'll make the final preparations to your file here.
What DPI must my artwork be?
For the best results, we recommend 300dpi or higher.
Artwork Colours
What colour format does my artwork need to be?
As we print in CMYK (Cyan, Magenta, Yellow, Black) ideally all artwork should be supplied this way. If you are unable to do this, we can do it for you. Please be aware that files converted from RGB to CMYK may alter the colour composition significantly.
When working in CMYK for printed media, a mix of all colours (75/68/67/90) produces the blackest black you can get. Although 0/0/0/100 (100% Key) may appear black on your RGB screen, it is not the best black you can achieve and may appear washed out or even grey. Please use the image shown here for reference: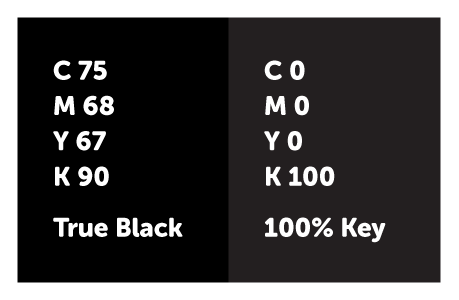 Whilst every effort is made to ensure colours match the files provided, different materials may produce slightly different colours once printed due to finishes and textures.
Do you print Pantone?
We do not currently offer Pantone printing services. Files provided with any Pantone references will be converted to the closest matching CMYK values.
Sending Files
What files can I upload?
We recommend the following file types:
PDF (Press Ready, High Quality Print, or PDF/X)
EPS
TIFF
JPEG
For the best results, produce your artwork at full print size to the dimensions you require, and ensure all fonts and imagery are outlined and embedded.
How do I send my files?
Use our upload artwork tool when creating your order. The upload preview may appear distorted if the file colour mode is CMYK or has no background. Don't worry, we'll receive the original file just fine.
My file is extremely large, what should I do?
Produce or save your artwork at half size (50%) which will reduce the size of the file, and we'll upscale it when we receive it. Please note, this may reduce the final print quality of your artwork. Alternatively, send your artwork to
info@bigartandbanners.com
via WeTransfer or Dropbox.
Design Services
I don't have artwork, can you design it for me?
Absolutely. Whether you are a small business, a well-known brand, or an individual celebrating a birthday - our in-house design team can exceed your expectations. Simply select one of our design packages when creating your order and provide us with a detailed brief. Proofs will be sent to you via email for your approval before we start any printing.
Finishing Options
Banner Finishing
What is a hemmed edge?
Recommended on any banner to be displayed outdoors, a hemmed edge is where we add 25mm of additional material around all 4 sides of the banner that is folded over and then heat welded or taped around the back. The benefits of a hemmed edge are:
Stronger banner that is less likely to tear along the edges.
Double layer of grip for eyelets, meaning they are less likely to rip out.
Does not affect the overall finish size of the banner.
What is a clean cut edge?
Clean cut edges simply means the material will be trimmed to size with no additional finishing. Recommended for indoor use only.
What are eyelets?
An eyelet is a small metal ring that is punched around the edge of a banner to allow easier hanging. Eyelets are placed evenly around all 4 sides of the banner, approximately 25mm from the edge. When creating artwork for a banner with eyelets, important information should be kept clear of at least 35mm around the edge of the banner otherwise this information may be lost. Eyelets can be placed in custom places if specified prior to print.
What are pole pockets?
Pole pockets mean we add material to your banner that is then looped and welded around the back to create a gap that allows a pole to slide through for easier hanging. We add the material and finish the pole pockets to match your size specifications. Pole pockets can be placed either at the top, the bottom, top and bottom, or both sides.
Pole pockets are available in 50mm and 100mm. These size are based on the flat size of the pocket, which will be slightly smaller when opened up. For scaffolding poles/tubes, a 100mm pole pocket is recommended.
Contour Cutting
What does trimmed to size mean?
Trimmed to size means the material will be cut in straight lines on all 4 sides of the print.
What does cut to shape mean?
Cut to shape means we send your print through a cutting machine that then follows a single continous cut path on your print file, resulting in a print that is cut to shape.
What does contour & weed mean?
Contour & weed is suitable for more intricate cutting needs. We send your print through a cutting machine that then follows multiple cut paths in and around your artwork. We then remove the excess material from the print, leaving you just with what you need.
Installation Guides
How do I install my self-adhesive vinyl?
We offer a professional installation service which is ideal for large or complicated wall graphic designs, and all of our work is guaranteed for 2 years. For easier and smaller wall vinyls, we recommend using the following instructions:
Preparation is key. Firstly, make sure the surface you're using has been rubbed down to be as smooth as possible - even fresh paint has a texture!
Ensure the surface is clean of dirt, dust, grease, and any form of contamination.
If installing on to glass, we recommend slightly wetting the surface. This will allow you to move the vinyl around to get it just how you want it.
Use masking tape to position your vinyl where you want it.
Slowly peel off the backing layer and apply vinyl to the surface, smoothing the vinyl to the surface with a squeegee as you go along.
Ensure any air bubbles or water have been removed, whilst taking care to not damage or stretch the vinyl in the process. Tricky air bubbles can be carefully popped with a sharp edge, such as a needle or sharp knife.
Allow the vinyl to adhere for 24 hours.
Please note, our instructions are for guideline purposes only. Big Art and Banners cannot be held responsible for incorrect installation of vinyl and we strongly advise speaking to us if you are unsure, as we are more than happy to answer any questions you have. Please contact us on 0800 612 9266 or info@bigartandbanners.com.
How do I set up my roller banner?
Roller Banners are so popular because of how easy they are to set up and pack away. It takes just a couple of minutes. Please look at the following instructions:
Carefully remove the roller banner from it's carry case.
Twist the feet of the roller banner out from underneath the base unit, so that it can stand upright.
Erect the pole until it's at its full height.
Insert one end of the pole into the base unit, ensuring it goes all the way to the bottom (you should hear a click when it has).
Carefully pull the graphic out from the base unit and pull this up until you can clip it to the top of the pole.
That's it! Step back and admire!
To dismantle, repeat this process in reverse order, ensuring you allow the graphic to slowly roll back into the base unit so to not potentially damage the graphic or the roller mechanism.
Discounts
What discounts do you offer?
Discounts vary across all products, from bulk quantity discounts, to discounts based on size (square meter). See our product pages for discount information which can be found above the 'Add to Cart' button if available.
How do I get my discount?
Discounts are applied automatically when you enter the criteria for your product in our online order forms. Additional limited time discounts are offered via coupon codes which can be redeemed on the checkout page. Subscribe to our newsletter to be notified of our sales and available discounts.